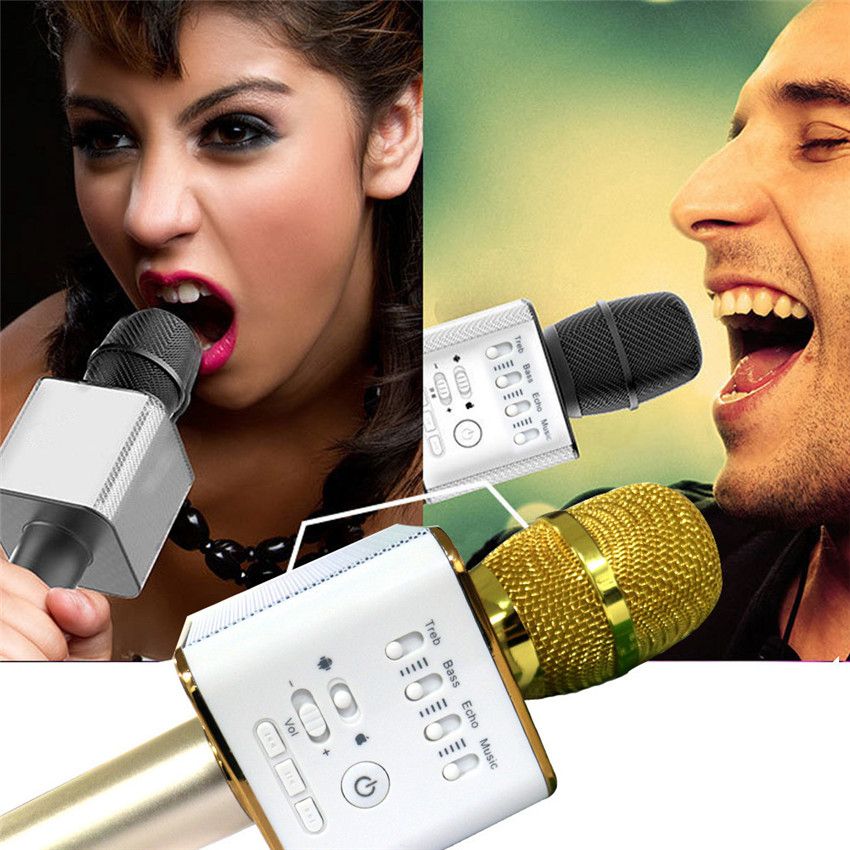 Descriptions:
This all-in-1 wireless portable microphone with improved chip has a speaker at the base that projects stunning KTV live-sound with powerful adjustable echo reverberation effects. It is made for the Karaoke lover and aspiring singer, definitely the best choice for singing, you can now show off wherever you go. It is also supports music play from USB or Bluetooth, you can pair it with Bluetooth devices like your smart phones, tablets, laptops, computers, etc.
Specifications:
Model: Q9
Color: Gold
Wireless method: Bluetooth 4.0
Frequency range: 30Hz - 20 kHz
Maximum SPL: about 115 dB 1kHz
THD: up to 1%
Charging Time: 3-4Hours
Battery capacity: 4.2V/2600 mAh lithium battery
Working time: More than 8 hours
Output power: 2*5W (Dual Speaker)
Reverb Mode: Echo Reverb
Pickup: Capacitive
Style: Handheld
Professional tuning button, the treble / bass / volume / paternity / reverb can be adjusted
Compatibility: Android/IOS smartphone, ipad tablet etc
Suitable range: Karaoke singing, Bluetooth speakers, car stereos, interviews, podcasts and so on.
Notice: This is not a general microphone. It is multi-purpose, use Bluetooth to connect, it also has a speaker at the base that projects stunning KTV live-sound with powerful adjustable echo reverberation effects
Package Include:
1x Microphone
1x Audio Cable
1x USB Cable
1x Manual
1x Case
Q9 Wireless Bluetooth Karaoke Microphone for Smartphone / PC and Media Player Compatible IOS / Android
Product Code: Q9 Bluetooth Karaoke Microphone
Availability: In Stock